Home Page
News
Grindley Brook in Railex Virtual Exhibition
Grindley Brook was due to appear at Railex 2021. Unfortunately the physical show had to be cancelled, however they did hold a virtual exhibition (Railex Virtual Model Railway Exhibition, 29th May). As part of the virtual exhibition, we were asked to give a presentation on the construction of Grindley Brook. This presentation can be seen on YouTube.
Thursday Club Nights
In view of the latest Government advice regarding Coronavirus, as detailed in GOV.UK guidance document COVID-19: Guidance for the safe use of multi-purpose community facilities), we have decided to suspend physical Thursday Club Nights until further notice.
However, we are holding Zoom meetings so that members can remain in contact. These are being held on our usual Thursday evenings. Typically, the first Thursday of the month will be nominally for O gauge; the second Thursday, OO gauge; third Thursday N gauge and the fourth Thursday everyone but any member can join in on any meeting.
General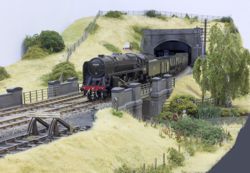 The canal bridge and surrounding area now entering its completion stage as 9F 92008 exits the tunnel [Photographer: David Brocklehurst]
Welcome to Hillingdon Railway Modellers club web site.
We are a group of railway modelling enthusiasts based to the West of London in the West Drayton/ Hayes/ Yiewsley area.
Interests of our members cover the majority of the smaller gauges, (N, OO, HO, O and narrow), with club layouts and test tracks in N, OO and O.
The club usually takes its completed layouts to exhibitions throughout the year. Two new layouts are currently under construction, one in OO (not yet named) and another in O (Grindley Brook) that is nearing completion; so if you've never built a model railway, come along and pick up some tips on how (and how not) to do it. For the latest updates on the layouts see our Facebook page.
On the social side, we enjoy the occasional day out to places of railway interest in the South of England; occasionally further afield, and last but not least, our annual Christmas dinner for members and their partners.