Home Page
News
Next Test Track Open Day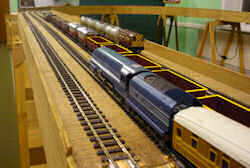 OO gauge test track [Photographer: Gary Kerr]
Our next club open day is being held 10:00 to 15:00 on Saturday the 4 April 2020 (confirmed) and we charge £5.00 per person to cover the rental of the hall.
These are not exhibitions so please bring along your own locos and rolling stock and try them out. We have three test tracks, one each with N, OO/HO and O gauge track. Our N-, (three loops that can be made to operate on DC or DCC); OO-, (four DC and one DCC loops) and O- (four DC loops but one can be run on DCC if requested) gauge test tracks will be set up for operation. In busy periods we may have to introduce a time limit on occupation of a track to allow everyone a fair turn.
Setting Up of the O Gauge Test Track [Photographer: Brian Hodgson]
There is also usually someone around to give advice on a poorly running loco and some small fixes may be possible (for a small donation to club funds). We can also supply, install and program DCC chips to suitable locos.
Bacon rolls, teas and coffees and other refreshments will also be available throughout the day.
Some photos of previous open days appear in the gallery section.
'Residents only parking' now only applies Monday-to-Friday so on-street parking for our open days on Colham Avenue and other roads nearby is now permitted. Please see our Contact Us page for our location, bus and rail information.
General
The canal bridge and surrounding area now entering its completion stage as 9F 92008 exits the tunnel [Photographer: David Brocklehurst]
Welcome to Hillingdon Railway Modellers club web site.
We are a group of railway modelling enthusiasts based to the West of London in the West Drayton/ Hayes/ Yiewsley area.
Interests of our members cover the majority of the smaller gauges, (N, OO, HO, O and narrow), with club layouts and test tracks in N, OO and O.
The club usually takes its completed layouts to exhibitions throughout the year. Two new layouts are currently under construction, one in OO (not yet named) and another in O (Grindley Brook) that is nearing completion; so if you've never built a model railway, come along and pick up some tips on how (and how not) to do it. For the latest updates on the layouts see our Facebook page.
On the social side, we enjoy the occasional day out to places of railway interest in the South of England; occasionally further afield, and last but not least, our annual Christmas dinner for members and their partners.
Exhibitions